Some people call trucker movies "cheesy" and… maybe they are! At least some of them. But perhaps only we truckers can
fully appreciate these movies – we know the CB Lingo, recognize familiar roads and terrain, truck stops, and of course, the
trucking lifestyle. We live it every day! We know what's "real" about these movies, and what's B.S. But either way, whether
truckers are romanticized or just made to look goofy, we love our trucker movies. We just need more of them, Hollywood!

Here are some of our favorite trucker movies!


---
Convoy

Kristofferson and MacGraw…ain't nothin' gonna get in their way! Truckers form a mile long "convoy" in support of a trucker's
vendetta with an abusive sheriff…Based on the country song of same title by C.W. McCall.

---
White Line Fever

Carrol Jo Hummer – A working man who's had enough! White Line Fever is one of the earliest and best films of the genre, because
it's relatively low-key, and the traveling sequences feel true-to-life.

---
Breaker! Breaker!

The story starts with a speed trap that catches a truck driver, who protests this rigged justice. This driver then disappears.
His older brother shows up to search for him, and runs into trouble. There are plenty of fights, car chases, and action.
Chuck Norris outfights dozens of opponents, a preview of his later movies and TV series.

---
Duel

Stars Dennis Weaver as a mild-mannered traveling salesman who unintentionally angers the driver of a semi truck. Suddenly,
the truck is not only riding his tail but trying to run him off the road. No matter what he does (pulling over, stopping
at a diner, calling the cops), he can't get rid of him (or it). Spielberg makes the wise decision of never showing the driver,
even as he cranks the voltage on the film's suspense elements.

---
Maximum Overdrive

This movie takes place in a North Carolina truck stop, which comes under attack by a convoy of trucks and other machines
animated by Earth's passage through the tail of a "rogue comet"! One of Stephen King's least appreciated tales, but fun nonetheless.

---

High Ballin'

1978 movie about two independent truck drivers (Jerry Reed and Peter Fonda) who fight off thugs who have been hired by the
owner of a trucking outfit trying to put independent haulers out of business by hijacking and strong arming drivers.

---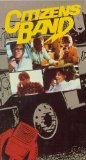 Citizens Band

This movie interlaces the stories of several characters in a small town united by their use of CB (citizen's band) radio.
Paul LeMat is the local CB coordinator who has time for little else in his life. His father, Roberts Blossom is a sour old
man who is nice on the radio. Charles Napier is a trucker hospitalized after an accident, with hilarious consequences.

---
Coast to Coast

Madie is a neurotic, wealthy woman who escapes from a New York state mental hospital where her unwholesome husband had her
committed to avoid the trial of a expensive divorce. Madie hitches a ride back to California with a certain Charles Callahan,
a debt-ridden (of course!) truck driver.

---
They Drive by Night

By turns hard-nosed and ribald, They Drive by Night smashes through a vintage Warner Bros. yarn about truck drivers, the
Depression, and one duplicitous dame. The opening reels are a forceful look at the dangerous lives of independent truckers
(George Raft and Humphrey Bogart as brothers–Bogie in the supporting role, though he would soon eclipse Raft in Hollywood),
battling the system and the economy.

---
Over the Top

Lincoln Hawk (Stallone) is a struggling trucker who's trying to rebuild his life. After the death of his ex-wife, he tries
to make amends with his son who he left behind years earlier. Upon their first meeting, his son doesn't think too highly
of him until he enters the nation-wide arm wrestling competition in Las Vegas.

---
Black Dog

An ex-con daredevil trucker (Patrick Swayze) must reinfect himself with white-line fever in order to save his wife and kid
from nasty gunrunners in this enjoyable, twisted-metal-fest from the director of Passenger 57. Also stars Randy Travis, Meat
Loaf, and a great soundtrack.

---
Sorcerer

OK, it's not about standard semi-trucks on America's highways, but it good fun anyway! Outcasts of different backgrounds
are forced by fortune to work in a remote oil drilling operation in South America. When fire breaks out of control the outcasts
are given the opportunity to earn enough money to get out by transporting two crates of unstable dynamite through miles of
jungle in ancient trucks in this taut thriller. One stunt features two trucks attempting to cross a rope bridge over a raging
river.

---
Smokey and the Bandit

Bandit and Cledus (Burt Reynolds and Jerry Reed) are two truck-driving southerners who accept a dare from big-shots Big
and Little Enos to pick up a truckload of beer from Texas and return it to them within a specified amount of time. Also stars
Jackie Gleason as Sheriff Buford T. Justice, who chases our heroes (in comical fashion) across state lines.

---
Ice Road Truckers

Ice Road Truckers is the History Channel reality show which began in 2007. Follow the drivers as they navigate over frozen
lakes and rivers in remote Arctic territories in Canada and Alaska and over the snow/ice covered Dalton Highway. Season 7
now is focused in Manitoba.

---
Joy Ride

It's all fun and games whene two brothers (Paul Walker and Steve Zahn) take off cross-country to bring home a pretty college friend (Leelee Sobieski). But the jokes end when a prank backfires and they find themselves stalked by a vengeful trucker who won't give up his relentless chase until somebody pays with their life. (Amazon Editorial)

---
Breakdown

Tautly directed and superbly photographed, this crowd-pleasing thriller from 1997 is indebted to Steven Spielberg's Duel, but more closely resembles Dead Calm in its strengths and weaknesses. Starring Kurt Russell. (Amazon Editorial)

---
Big Rig

From acclaimed director Doug Pray comes an award winning portrait of modern America as seen through the eyes of long-haul truck drivers, the people who know this country in unimaginable ways. Big Rig is a powerful and insightful documentary that will take you on a road trip— giving you a new appreciation for the industry which drives the country. (Amazon Editorial)

---
Trucker

Diane Ford (Michelle Monaghan), a vivacious and successful independent truck driver, leads a carefree life of long-haul trucking, one night stands and all-night drinking with Runner (Nathan Fillion, Serenity, Dr. Horrible's Sing-A-Long Blog; Cast) until the evening her estranged 11-year-old son, Peter (Jimmy Bennett, young James Kirk in Star Trek) is unexpectedly dropped at her door. (Amazon Editorial)

---
Road Warrior

An former Australian policeman now living in the post-apocalyptic Australian outback as a warrior agrees to help a community of survivors living in a gasoline refinery to defend them and their gasoline supplies from evil barbarian warriors. (Amazon Editorial)

---